WELCOME TO BROSOCK
Our Colorful Socks Selection
Kindly choose the category that piques your interest for acquiring fashionable and trendy socks.
SINGLE SOCKS IN STORE
New of Socks
NEWS TO BROSOCK
OUR LATEST NEWS
Our team of sock experts shares valuable tips, trends, and stories to help you elevate your sock game and enhance your overall style.
In the realm of fashion, socks play an underrated yet pivotal role. Not only d...
Colorful Socks Shopping: Adding a Splash of Vibrance to Your Wardrobe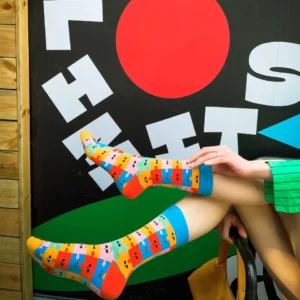 Are you tired of the same old monotonous socks that adorn your feet? It's time to embark on an exciting journey into the world of Colorful Socks Shopping! Ditch the ordinary and embrace the extraordinary by infusing your wardrobe with color and creativity. In this article, we'll guide you through selecting, styling, and owning colorful socks that reflect your unique personality. Let's dive in and explore the realm of vibrant foot fashion.
Colorful Socks Shopping: A Splash of Personality
Colorful socks aren't just pieces of clothing; they're a way to express your personality and make a statement without saying a word. These vibrant accessories can transform a mundane outfit into a masterpiece of style and creativity.
The Joy of Standing Out
Wearing colorful socks allows you to stand out in a crowd while showcasing your individuality. Whether it's a subtle touch of color from your formal attire or a bold explosion of patterns, your socks can speak volumes about your sense of adventure.
Power of Versatility
Colorful socks come in many designs, ranging from quirky patterns to artistic motifs. This versatility allows you to pair them with various outfits, from casual jeans and sneakers to more formal attire, adding a touch of playfulness to any ensemble.
Boosting Your Confidence
The right pair of colorful socks has the incredible ability to boost your confidence. As you catch glimpses of those vibrant hues throughout the day, you'll feel a subtle yet empowering sense of positivity, elevating your overall mood.
Exploring the World of Colorful Socks Shopping
Finding Your Style
When it comes to choosing colorful socks, the options are endless. From bold geometric shapes to charming animal prints, there's a style for everyone. Start by considering your preferences and the type of statement you want to make.
Mixing and Matching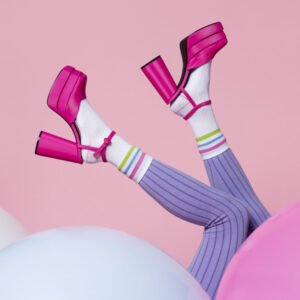 Don't be afraid to experiment with different combinations! Pairing colorful socks with neutral or complementary colors in your outfit can create a visually appealing contrast that catches the eye.
Occasions and Settings
While colorful socks can add flair to your everyday look, consider the occasion and setting before donning them. Opt for more subtle patterns in formal settings and let your socks shine in casual gatherings.
Quality Matters
Investing in high-quality colorful socks is crucial. Quality materials ensure comfort and durability, ensuring your vibrant accessories remain a staple in your wardrobe for a long time.
Colorful Socks Shopping isn't just about adding a pop of color to your wardrobe; it's about embracing your unique style and expressing your personality. These vibrant accessories can transform how you feel and look, from boosting your confidence to making a statement. So why wait? Dive into the world of colorful socks and step out with a newfound sense of vibrance and creativity.
If you're ready to infuse your wardrobe with color and personality, it's time to embark on a colorful socks shopping spree. Elevate your style, showcase your individuality, and let your feet do the talking!