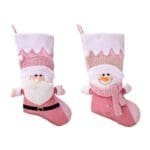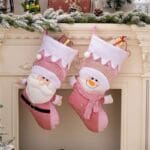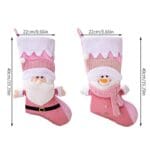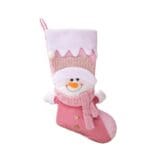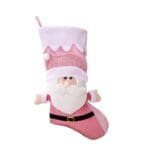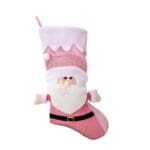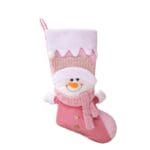 | | |
| --- | --- |
| Age Group | Adult |
| Gender | Unisex |
| Material | Soft Cotton, Spandex |
| Shipping | Warehouse PRC (5-15 days) |
Cherish the Spirit of Christmas with Our Exquisite Stockings:
Stand out this Christmas with our Nordic style pink Christmas stockings. These stockings are more than just decorations; they are a warm embrace of the holiday season, perfect for both decorating your home or office and adding a touch of love to your gifts.
Product Highlights:
High Quality: Crafted from premium plush fabric, our stockings are not only soft and comfortable but also built to last, ensuring you can enjoy them for many Christmases to come.
Stylish Nordic Design: The simple yet stylish design, featuring patterns like Santa and snowman, is sure to catch the eye of anyone who enters your home.
Large Capacity: With ample room, these stockings allow you to store multiple gifts and small items, making gift wrapping a breeze.
Romantic and Cozy: Perfect for those who adore cozy and pink tones, our stockings create a warm and festive atmosphere that embodies the spirit of Christmas.
Easy to Hang: Equipped with an attached rope or hook, these stockings can be effortlessly hung on your fireplace, Christmas tree, or walls, adding a beautiful touch to your holiday decor.
Versatile Usage:
Decorate with Love: Use these stockings to decorate your home or office during the Christmas season, spreading love and joy.
Surprise Gifts: These stockings are not just for show; they also make excellent gift packaging. Surprise your loved ones by placing their presents inside our high-quality stockings, adding an extra layer of warmth and excitement to their gifts.
Product Specifications:
Material: Made from high-quality cloth
Size: Each stocking measures 22x49cm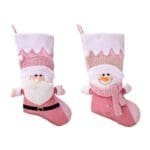 Nordic Christmas Tree Hanging Stocking Ornament
Your review
* Review is required
Email
* Email is required
| REGION | USA WAREH. | PRC WAREH. |
| --- | --- | --- |
| USA | 3-5 working days | 7-15 working days |
| Canada | 3-5 working days | 7-15 working days |
| Australia | 5-12 working days | 7-15 working days |
| U.K | 5-12 working days | 7-15 working days |
| Germany | 5-12 working days | 7-15 working days |
| Other | 5-12 working days | 7-15 working days |